Welcome to the International Radiation Physics Society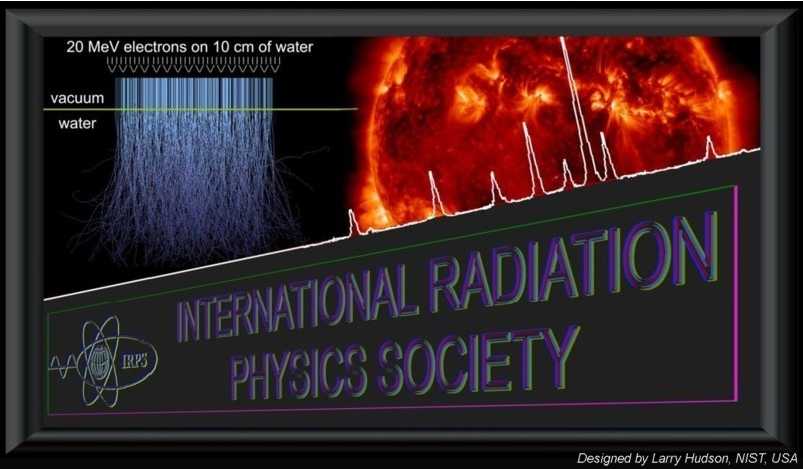 The primary objective of the International Radiation Physics Society (IRPS) is to promote the global exchange and integration of scientific information pertaining to the interdisciplinary subject of radiation physics, including the promotion of
theoretical and experimental research in radiation physics,
investigation of physical aspects of interactions of radiations with living systems,
education in radiation physics, and
utilization of radiations for peaceful purposes.
The Constitution of the IRPS defines Radiation Physics as "the branch of science which deals with the physical aspects of interactions of radiations (both electromagnetic and particulate) with matter." It thus differs in emphasis both from atomic and nuclear physics and from radiation biology and medicine, instead focusing on the radiations.
International Symposia on Radiation Physics
The International Radiation Physics Society (IRPS) was founded in 1985 in Ferrara, Italy at the 3rd International Symposium on Radiation Physics (ISRP-3, 1985). Symposia have been held in
Calcutta, India ISRP-1, 1974
Penang, Malaysia ISRP-2, 1982
Ferrara, Italy ISRP-3, 1985
Sao Paulo, Brazil - ISRP-4, 1988
Dubrovnik, Croatia - ISRP-5, 1991
Rabat, Morocco - 1SRP-6, 1994
Jaipur, India - ISRP-7, 1997
Prague, Czech Republic - ISRP-8, 2000
Cape Town, South Africa - ISRP-9, 2003
Coimbra, Portugal - ISRP-10, 2006
Melbourne, Australia - ISRP-11, 2009
Rio de Janeiro, Brazil - ISRP-12, 2012
Beijing, China - ISRP-13, 2015
Cordoba, Argentina - ISRP-14, 2018
coming ... Kuala Lumpur, Malaysia - ISRP-15, 2021

See Conferences for more details and links.
The IRPS sponsors the International conference on Industrial Radiation and Radioisotope Measurement Applications (IRRMA series)
Prague, Czech Republic - IRRMA-7, 2008
Kansas City, Missouri - IRRMA-8, 2011
Valencia, Spain - IRRMA-9, 2014
Chicago, USA - IRRMA-10, 2017
coming ... Moscow, Russia - IRRMA-11, 2020
The IRPS sponsors the International Conference on Dosimetry and its Applications (ICDA series)
Prague, Czech Republic- ICDA-1, 2013
Surrey, U.K. - ICDA-2, 2016
Lisbon, Portugal - ICDA-3, May 2019
The IRPS also sponsors regional Radiation Physics Symposia and the International Forum on Advances in Radiation Physics (IFARP series of Fora).
Newsletter
A newsletter, The IRPS Bulletin, is published quarterly and sent to all IRPS members.
Secretariat
The IRPS Secretariat is :
c/- Professor Jorge Fernandez
Universita di Bologna
Laboratorio di Ingegneria Nucleare di Montecuccolino
I-40136 Bologna ITALY
email: jorge.fernandez@unibo.it
The IRPS welcomes your participation in this global radiation physics family.
Download our Leaflet and Poster
IRPS leaflet, in pdf format, covering information about the Society and membership.
IRPS poster illustrating the Society activities
Ballot Election Slate
IRPS 2021 Ballot and election slate in pdf format.